Phoenix and Scottsdale Vacation Rental Properties
Save 20% $167 starting at $139 per night
3 bedrooms / 2 bathrooms
maximum occupancy 8
Tempe
*SANITIZED* Welcome to the "Azur Dream" home. This single family home is located off the 101 freeway and Elliot Road in Tempe, Arizona. A great central location close to nearby shops, dining, ASU, and MLB Spring Training. You will be just minutes away from the brand New Chicago Cubs Spring
read more
Full name
Rating

Gary

Excellent location and service. Thank you

Geoffrey

we have been visiting phoenix for over 20 years, staying in a house is definatly the best experiance and we have stayed in this house for the past 2 years, love love love it , singature staff especially susanna mckibben are amazing

Tim

Great place! Thanks!
Save 20% $162 starting at $135 per night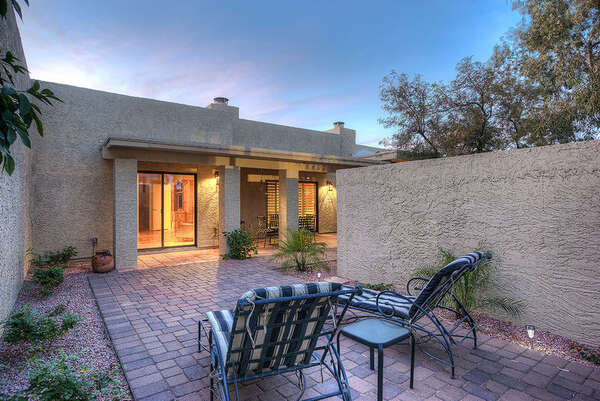 2 bedrooms / 2 bathrooms
maximum occupancy 4
Scottsdale
*SANITIZED* This charming two bedroom patio home is located in the heart of Scottsdale, just minutes away from shopping destinations such as Fashion Square, Old Town Scottsdale, Tempe Marketplace, and attractions such as baseball spring training facilities. Best of all, you get the convenience of a
read more
Full name
Rating

Brian

Cactus Retreat was a very superior accommodation as far as amenities, location and overall set up. This location would easily satisfy 4 people with comfort. Having bicycles was great and the local parks were great for walking. Accessibility for day trips, local museums and fantastic restaurants make Cactus Retreat a prime destination. We will return.

Steve

Very happy with our recent stay.

Theresa
Save 20% $222 starting at $185 per night
4 bedrooms / 3.5 bathrooms
maximum occupancy 10
Anthem
*SANITIZED* Welcome to Caledonia Dreamin in Anthem Country Club. You'll fall in love with the amazing backyard, a true oasis. The exquisite backyard features covered patio furnished with comfy furniture, a built in BBQ gas grill and bar, another patio area with a sectional and firepit, a heated
read more
Full name
Rating

Dan

This property was just as advertised and very well suited to a family. The owners put a lot of thought into making it work for a tenant. The kitchen was extremely well set up with appliances, dinnerware, pots and pans and cooking utensils. The owners even had a kit allowing two twin beds to be combined into one queen, which was perfect for us. The owners did a great job of putting together a book describing how things work (TV and stereo, pool, when to put out the trash, etc.). We have been renting in AZ for a few months for the past 6 or 7 winters and the experience we had with the property and Casago was terrific. We have rented this property again for next year. Dan and Patty

James

Jeffrey

The team in Scottsdale is fantastic! The entire experience was significantly better than expected and it was all made possible by the team at Signature. I especially want to thank Yvette for all she did to ensure our stay was perfect. Her professionalism and responsiveness during the booking carried over into all interactions with her through our stay. We will definitely use Signature Vacations in the future. Also, since there isn't a category above Excellent I'll say that our home exceeded our expectations in every way. The neighborhood, the home, the setting...all exceptional. Thanks to Yvette and the entire Signature team for allowing us to have a fantastic winter of 2016.
Save 20% $419 starting at $349 per night
4 bedrooms / 2 bathrooms
maximum occupancy 8
Scottsdale
*SANITIZED* Relax and enjoy the privacy and tranquility of this Southwestern Territorial inspired home. This fantastic 4 bedroom home is set on 1 acre of perfectly planned desert landscape and has everything you need to retreat and relax, yet remains in the heart of N Scottsdale. This beautiful Southwestern
read more
Full name
Rating

Kylee

Mcdonald

Thanks to Catrina, who provided outstanding service. Great experience. Thanks.

Paul

We thoroughly enjoyed our stay in Casa Azul. It was one of the best vacations we have ever had. We had several issues come up during the week, and the staff handled them very quickly, even after hours.
Save 20% $126 starting at $105 per night
2 bedrooms / 2 bathrooms
maximum occupancy 4
Scottsdale
*SANITIZED* Welcome to Endless Summer condo in downtown Scottsdale. What a great location with easy access to walking trails along the Hayden Greenbelt, less then 1 mile to downtown Scottsdale, and to the San Francisco Giants stadium, and Basha's Grocery store and a Walgreens Pharmacy less then
read more
Full name
Rating

Betty

Patricia

The unit was perfect.

Margie
Save 20% $347 starting at $289 per night
5 bedrooms / 3.5 bathrooms
maximum occupancy 10
Surprise
*SANITIZED* A beautiful custom home in a gated subdivision. Just 15 Minutes to the Jobing.Com Arena, University of Phoenix Stadium, West Gate Restaurants, Brand New Tanger Outlet Mall and The Peoria Sports Complex. Surprise is a popular destination for Events such as the Fiesta Bowl, Super Bowl, and
read more
Full name
Rating

Jennifer

The property "The Sound Of Freedom" was perfect. We loved our stay there and hated to leave. Surprise, Arizona is beautiful! Signature Rentals was very easy to rent from. We were happy with the entire experience from renting the home to departure. Everything was easy and the property was perfect!

Deborah

Perry

Everything about our stay was awesome!!!!
Save 20% $186 starting at $155 per night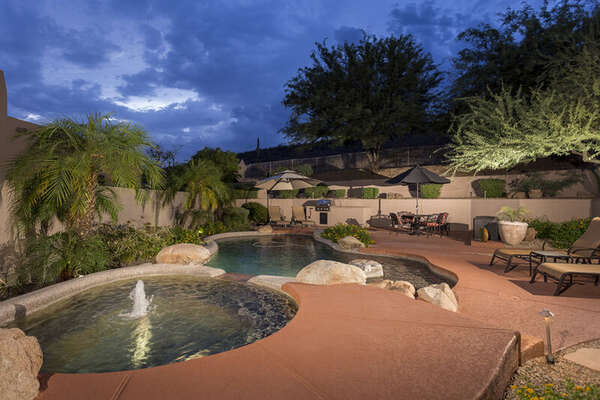 3 bedrooms / 2 bathrooms
maximum occupancy 6
Glendale
*SANITIZED* Welcome to our wonderful Hidden Oasis which was freshly renovated plus all new furnishings & accessories inside and out. This home has great curb appeal and is located on a 1/3 acre lot with 3 distinctive outside areas in a quiet Cul-De-Sac backing on to the Thunderbird Mountain Preserve
read more
Full name
Rating

May

Beautiful home and stylishly decorated . In the kitchen, more serving dishes would be helpful.

Anne

There was quite a delay in getting the pool issues resolved, but it was Christmas time... All in all we were very satisfied and loved the house.

Beth

We loved the house.
Save 20% $263 starting at $219 per night
4 bedrooms / 2.5 bathrooms
maximum occupancy 8
Goodyear
*SANITIZED* The aura of comfort and excellence is evident throughout this 4 bedroom 2.5 bathroom home situated on the Arthur Hills-designed Palm Valley golf course. You'll fall in love with the professionally landscaped backyard, a true oasis! The backyard features a heated pebble tec pool and
read more
Full name
Rating

Leigh

We loved the Hole in One accommodation. Wonderful!

Boris

We had a wonderful time. The house was lovely.

Mike

We enjoyed our stay at the Hole in One Property. We appreciated you working with us to extend our stay as our homes as being remodeled. Thank you!
Save 20% $63 starting at $53 per night
1 bedrooms / 1 bathrooms
maximum occupancy 4
Scottsdale
Le Maisonette within the Plaza Residences at Kierland awaits you! This ideal one bedroom/one bathroom condominium, located in the heart of north Scottsdale, is just steps from the new urban lifestyle center Kierland Commons, a hot spot amongst residents and visitors for upscale shopping, a wide selection
read more
Full name
Rating

Charles

This unit was very cozy and a great place to stay while waiting to move into another unit. Centrally located to great shopping, restaurants, etc. I would definitely recommend this place to family and friends.

Brisa

I really enjoyed this condo. It had a great location and was close to a lot of options for shopping and dining. I really loved the decor in the condo, and everything was clean and comfortable.

Janice
Save 20% $150 starting at $125 per night
3 bedrooms / 2 bathrooms
maximum occupancy 6
Scottsdale
*SANITIZED* If you have never stayed in Scottsdale get ready for sun, fun, and an awesome time. This condo is centrally located near everything you could possibly think of to see and do. Many attractions are nearby such as Scottsdale Fashion Square Mall, Talking Stick Resort and Casino, and Old Town
read more
Full name
Rating

Frank

Mike

The unit was very nice and when I had an a/c issue it was addressed in a timely manner. Bath mats are suggested as the tile can be slippery when wet.

Patty