Phoenix and Scottsdale Vacation Rental Properties
Save 20% $162 starting at $135 per night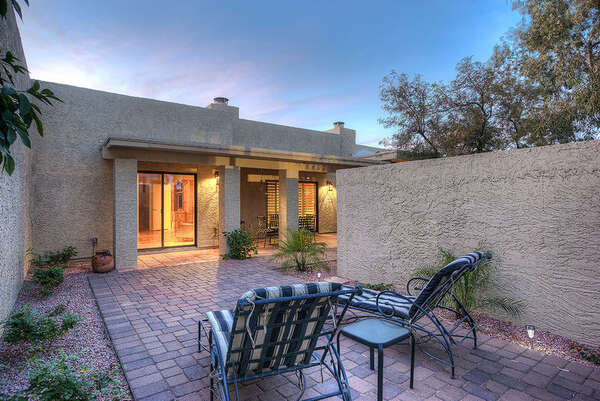 2 bedrooms / 2 bathrooms
maximum occupancy 4
Scottsdale
*SANITIZED* This charming two bedroom patio home is located in the heart of Scottsdale, just minutes away from shopping destinations such as Fashion Square, Old Town Scottsdale, Tempe Marketplace, and attractions such as baseball spring training facilities. Best of all, you get the convenience of a
read more
Full name
Rating

Brian

Cactus Retreat was a very superior accommodation as far as amenities, location and overall set up. This location would easily satisfy 4 people with comfort. Having bicycles was great and the local parks were great for walking. Accessibility for day trips, local museums and fantastic restaurants make Cactus Retreat a prime destination. We will return.

Mike

John

Everything was excellent. I am interested in purchasing some rental property in the Scottsdale or surrounding area. Please contact me. I was completely impressed with your management. Thank you. Roberta
Save 20% $222 starting at $185 per night
4 bedrooms / 3.5 bathrooms
maximum occupancy 10
Anthem
*SANITIZED* Welcome to Caledonia Dreamin in Anthem Country Club. You'll fall in love with the amazing backyard, a true oasis. The exquisite backyard features covered patio furnished with comfy furniture, a built in BBQ gas grill and bar, another patio area with a sectional and firepit, a heated
read more
Full name
Rating

James

Daniel

We have rented this property for two months in each of 2018 and 2019. The pictures of the property do a terrific job of displaying it. It was as advertised, in great condition and well-supplied with linens, kitchen utensils, dinnerware (and many TV's!). The owners devoted a great deal of time to preparing a "user guide" and to recommendations to the first time visitor to the area. We have rented in the North Scottsdale-Cave Creek area for a number of years through Casago and this property was the best so far.

Jeffrey

The team in Scottsdale is fantastic! The entire experience was significantly better than expected and it was all made possible by the team at Signature. I especially want to thank Yvette for all she did to ensure our stay was perfect. Her professionalism and responsiveness during the booking carried over into all interactions with her through our stay. We will definitely use Signature Vacations in the future. Also, since there isn't a category above Excellent I'll say that our home exceeded our expectations in every way. The neighborhood, the home, the setting...all exceptional. Thanks to Yvette and the entire Signature team for allowing us to have a fantastic winter of 2016.
Save 20% $419 starting at $349 per night
4 bedrooms / 2 bathrooms
maximum occupancy 8
Scottsdale
*SANITIZED* Relax and enjoy the privacy and tranquility of this Southwestern Territorial inspired home. This fantastic 4 bedroom home is set on 1 acre of perfectly planned desert landscape and has everything you need to retreat and relax, yet remains in the heart of N Scottsdale. This beautiful Southwestern
read more
Full name
Rating

Jebron

Paul

We thoroughly enjoyed our stay in Casa Azul. It was one of the best vacations we have ever had. We had several issues come up during the week, and the staff handled them very quickly, even after hours.

Stephanie

My only complaint would be the woodpecker, who woke us up every morning at 5:45am, while he drilled into the rain gutters outside the master suite. Other than that, it was a wonderful and relaxing week. The Casago staff were amazing and will certainly stay at one of your properties the next time we are in AZ. Thanks so much!
Save 20% $126 starting at $105 per night
2 bedrooms / 2 bathrooms
maximum occupancy 4
Scottsdale
*SANITIZED* Welcome to Endless Summer condo in downtown Scottsdale. What a great location with easy access to walking trails along the Hayden Greenbelt, less then 1 mile to downtown Scottsdale, and to the San Francisco Giants stadium, and Basha's Grocery store and a Walgreens Pharmacy less then
read more
Full name
Rating

Margie

Patricia

The unit was perfect.

Betty
Save 20% $450 starting at $375 per night
5 bedrooms / 3.5 bathrooms
maximum occupancy 10
Surprise
*SANITIZED* A beautiful custom home in a gated subdivision. Just 15 Minutes to the Jobing.Com Arena, University of Phoenix Stadium, West Gate Restaurants, Brand New Tanger Outlet Mall and The Peoria Sports Complex. Surprise is a popular destination for Events such as the Fiesta Bowl, Super Bowl, and
read more
Full name
Rating

Ryan

House was amazing

Sandy

The Sound of Freedom property was everything we imagined and more. We took our family of 9 as a celebration of our 50th anniversary. Age range was 13 years to 70 years. We had never vacationed via VRBO and our first experience was excellent. Signature Vacation Rentals was a pleasure to work with. We found the property to be clean, well furnished and a pleasure to stay in. The pool and outside area was absolutely beautiful and we enjoyed seeing the "sounds of freedom" flying over each day. Thank You for making our first experience with Signature a good one. Sincerely, Sandy Wallace and family

Patrick

This home was GREAT! we were very happy with everything the property had to offer. The kitchen is awesome and the two fridges made it so easy for the kids. Having the linen in the bathrooms/closets made our lives better too. Not to mention the quality of the towels/blankets /sheet made our experience one to remember. I want to thank Yvette for going over price with detail as well the flexibility when we added the extra days. She is very friendly, knowledgeable and offered many things to do on our stay. The only commit I have would be mention the patio and pool toys within the description of the house. The pool is great and finding the floats, on our 5th day but didn't use, would have added more fun. Andrea and I look forward to our next stay in AZ and we'll be looking forward to a new vacation with Signature Vacation Rentals Patrick Showalter
Save 20% $186 starting at $155 per night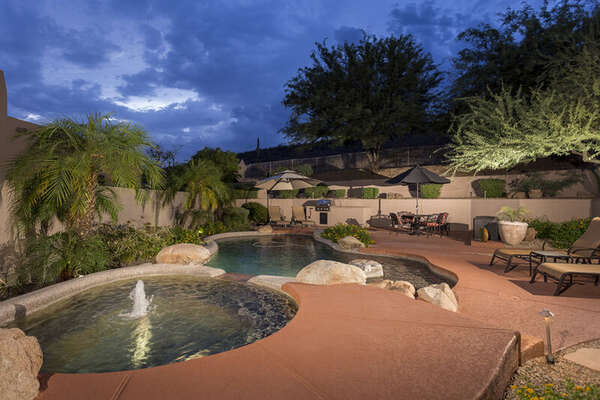 3 bedrooms / 2 bathrooms
maximum occupancy 6
Glendale
*SANITIZED* Welcome to our wonderful Hidden Oasis which was freshly renovated plus all new furnishings & accessories inside and out. This home has great curb appeal and is located on a 1/3 acre lot with 3 distinctive outside areas in a quiet Cul-De-Sac backing on to the Thunderbird Mountain Preserve
read more
Full name
Rating

Paul

Laurie

The property was so amazing! We would rent this place again in a heartbeat

Richard
Save 20% $63 starting at $53 per night
1 bedrooms / 1 bathrooms
maximum occupancy 4
Scottsdale
Le Maisonette within the Plaza Residences at Kierland awaits you! This ideal one bedroom/one bathroom condominium, located in the heart of north Scottsdale, is just steps from the new urban lifestyle center Kierland Commons, a hot spot amongst residents and visitors for upscale shopping, a wide selection
read more
Full name
Rating

Janice

Charles

This unit was very cozy and a great place to stay while waiting to move into another unit. Centrally located to great shopping, restaurants, etc. I would definitely recommend this place to family and friends.

Gus

Your maintenance man was very courteous and helpfull. Your office staff were very nice.
Save 20% $150 starting at $125 per night
3 bedrooms / 2 bathrooms
maximum occupancy 6
Scottsdale
*SANITIZED* If you have never stayed in Scottsdale get ready for sun, fun, and an awesome time. This condo is centrally located near everything you could possibly think of to see and do. Many attractions are nearby such as Scottsdale Fashion Square Mall, Talking Stick Resort and Casino, and Old Town
read more
Full name
Rating

Patty

Mike

The unit was very nice and when I had an a/c issue it was addressed in a timely manner. Bath mats are suggested as the tile can be slippery when wet.

Frank
Save 20% $5053 starting at $4211 per month
4 bedrooms / 3.5 bathrooms
maximum occupancy 10
Goodyear
*SANITIZED* Welcome to our Palm Valley home located in the gated community on the Palm Valley golf course. This 4 bedroom + den, 3.5 bath custom home is beautiful. Big oversized lot right on the golf course with all that you need to entertain. The backyard is a dreamy oasis complete with a heated pool/spa,
read more
Save 20% $150 starting at $125 per night
2 bedrooms / 2 bathrooms
maximum occupancy 5
Scottsdale
*SANITIZED* Looking for a retro-modern 2 bedroom GROUND FLOOR condo on a golf course in Old Town Scottsdale? And a garage? This home is perfect for couples, business, or just a quick getaway with friends. The condo is located in the Regency at Old Town Scottsdale which is a small gated community located
read more