Phoenix and Scottsdale Vacation Rental Properties
4 bedrooms / 4.5 bathrooms
maximum occupancy 8
Scottsdale
*SANITIZED* Charming Troon Golf Casita in the heart of North Scottsdale. Magnificent 4 bedroom 4.5 baths Golf Casita in Troon North. This is a free standing two story home with no common or shared walls and the community pool and gym are 20 paces from your front door. The inside of the home is light
read more
Full name
Rating

William

William

Jim
Save 20% $150 starting at $125 per night
3 bedrooms / 2 bathrooms
maximum occupancy 6
Phoenix
*SANITIZED* This three bedroom private home is perfect for any getaway to the valley! Located just across the street from Desert Ridge Market place in the beautiful town of North Scottsdale. The market place offers everything you need form gas and groceries to fine dining, shopping, and even group activities
read more
Save 20% $150 starting at $125 per night
2 bedrooms / 2 bathrooms
maximum occupancy 6
Scottsdale
*SANITIZED* Beautiful 2 bedroom condo with modern rustic decor. The condo is located near cactus and 13th street in a gated private community with a 1 car garage. Once you enter the unit you will notice the open floor plan. The kitchen is located to your right with brand new appliances and all the inventory
read more
Save 20% $138 starting at $115 per night
2 bedrooms / 2 bathrooms
maximum occupancy 4
Surprise
*SANITIZED* **Minimum 30 day rental ** As you pull up to this beautiful two bedroom, two bath home featuring an additional office space you are greeted by lovely desert landscaping with winding river rock and a mature shade tree. Walk up to the front door with the covered entrance or enter through the
read more
Full name
Rating

Larry

Jean

Although our over all experience was great, we would have liked to been able to utilize the pool. I am sure having a pool was figured in the price. Having a solaar blanket probably would have helped the warmth. Other than that we were very satisfied with the place and location. We have rented it for next year already. Thank you.

Alan

This was only a short 1 week stay and the house well suited my needs. It was a nice touch that the owners provided a small guidebook on how to operate things like the TV and internet connection. Everything was clean and everything worked well. There are plenty of major food stores within a few minutes of the house.
Save 20% $198 starting at $165 per night
3 bedrooms / 2 bathrooms
maximum occupancy 6
Chandler
*SANITIZED* Welcome to the All Star Chandler home located just 4 miles South of the 202 freeway off Gilbert Road. This beautiful and booming area has an abundance of shopping, fine dining, endless green belts and beautiful parks. You will find nearby golf courses, MLB Spring training facilities, Wild
read more
Full name
Rating

Deborh

Russell

Lisa

All Star was a great vacation rental. There were some issues with minor things like not enough flatware and certain appliances in the kitchen, and a few broken items in the home (vertical blinds in the living room and ice maker in the kitchen), however, your property services staff and Gilbert and Todd in particular dealt with every item we called about in a timely and pleasant manner. We love Signature Vacation Rentals because of your great customer service.
Save 20% $138 starting at $115 per night
3 bedrooms / 2 bathrooms
maximum occupancy 5
Gilbert
All stays 30 days require biweekly housekeeping at the owners expense. Welcome to Highland Place ~ Enjoy this spacious East Valley 3 bedroom home which is conveniently located in a desirable neighborhood between I-60 and the 202 Freeway. This Gilbert location is a perfect home-base for shorter stay
read more
Full name
Rating

Steven

Dwight

동규
Save 20% $240 starting at $200 per night
3 bedrooms / 3.5 bathrooms
maximum occupancy 6
Scottsdale
*SANITIZED* Welcome to the lush, quiet, gated community of Arroyo Madera. The community offers a heated pool & spa, pool side loungers, BBQ grills and picnic area for guest use. The grounds of the community are well manicured and have beautiful lush landscaping and waterfalls throughout. Tucked
read more
Full name
Rating

Daniel

We have been coming to Arizona in March for 29 years. We love it! Things have certainly changed. I would like to discuss the market changes with Katrina, how the rental dynamics have changed, inventory, short term rental versus long term rental, etc. Seems like AZ would like to almost eliminate the "short term" idea. Especially the 3 day weekend thing, AIRBNB, I get how that would be very annoying to long term residents. Is the two week stay/one month stay declining in availability from AZ property owners? That is what we need. On this trip, we almost had a challenge with parking, we always have 2 cars, thankfully our owner was in town and kindly removed his car taking up one of the garage spots so we could have a second spot. We met him and told him how thankful we were for that. Originally we were of he impression we could put our second car in one of the guest spots, the sign said no overnight. Carly helped us there. One of the owners in the community advised how we could approach that, we were planning to do that until our property owner helped us by freeing up the space he was occupying. All in all another great year for us!

Penelope

Jeff
Save 20% $240 starting at $200 per night
2 bedrooms / 2.5 bathrooms
maximum occupancy 6
Scottsdale
*SANITIZED* Lovely 2 bedroom 2.5 bath townhome with an attached 2 car garage within walking distance of shops and dining on Shea and 90th Street. 15 minute drive to Kierland, Scottsdale Quarter, Desert Ridge, and Old Town Scottsdale for an abundance of shops and dining. Quaint little neighborhood within
read more
Full name
Rating

Bridget

Shawna

Thank you so much for sharing your experience with us, Shawna! We are so happy to hear you enjoyed your stay with us! We hope you choose Casago again in the future.

Gust
Save 20% $240 starting at $200 per night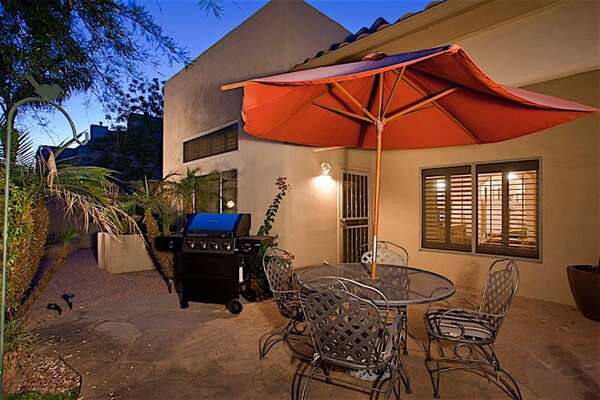 2 bedrooms / 2 bathrooms
maximum occupancy 4
Scottsdale
*SANITIZED* This light and bright single story patio home has 2 spacious bedrooms and no stairs to climb. You'll enjoy the ease of access from the attached 1-car garage which takes you right into the main living area of the home. Your guest will be charmed by the private gated courtyard entrance
read more
Full name
Rating

Ed

The area and facility was very nice and livable and convenient. Your people and organization was very easy and good to work with.

Colleen

Hello Colleen: So happy to hear you enjoyed your stay with us! We hope to host you again in the future!

Barbara
Save 20% $138 starting at $115 per night
2 bedrooms / 2.5 bathrooms
maximum occupancy 4
Scottsdale
*SANITIZED* Welcome to Arroyo Madera 156 ~ This fabulous Scottsdale townhouse is the perfect home away from home. Every room has been thoughtfully decorated to offer you comfort, quality and style! Enter the home on the main floor and you come upon the living room furnished with a mid-century modern
read more
Full name
Rating

Dan

Mike

none